Namn
Wares
Uppfödare
Scuderia Groane SRL
CA
Fri

Födelseår
2002

Ägare
Bränninge Arabstuteri

SCID
Fri

Pris
Naturlig betäckning 20.000 kr + moms

Övrigt
Friröntgad för OCD/cystor i bakknän
If every serious breeder made an effort to save just one unique individual, one unique pedigree, the Arabian Horse would gain so much more and the breed as a whole would be better. And history would not have to be lost forever.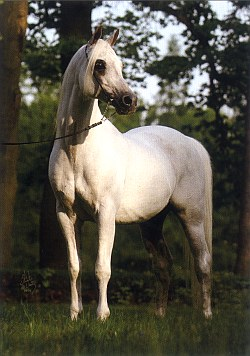 Piruet, one of the most decorated arabian stallions in the World, with an incredible show record, spanning over 11 years from 1989 to 2000. A white fairytale arabian like the ones we dream of stepping out of the desert. Representing perfect arabian type, ethereal beauty, dryness and great stamina.
Twice World Senior Champion Stallion, twice World Reserve Champion Senior Stallion, 3 times European Senior Champion Stallion and twice both French & Italian National Champion Stallion.
Piruet was also a great racehorse. Bred by Janow Podlaski State Stud in Poland in 1983, he raced 24 times with 5 wins, 7 times secondplace and 5 times third place. Proving yet again that beauty and performance can and always should go hand in hand.
Piruets dam was the elegant grey mare PIECZEC (Palas - Pierzga/Negatiw) from the damline of Szamrajowka (imported 1810 to Poland). Her great granddam Wlodarka was taken by the Russians as a "prize of war" during WW II. In the years after, her daughter Piewica was repurchased by Poland from Tersk Stud in Russia in an effort to bring the line back. Piewica proved to be an incredible producer and contributed an everlasting legacy. Her daughter Pierzga produced the full sisters Pilarka and Pieczec. Pilarka being a World & European Champion Mare and a founder of her own strong family in Poland, including later descendants such as Pianissima, Pipi and Pinga. Piezcec herself was a succesful racehorse and had 15 starts with 7 wins including the Oaks. Her first foal was Piruet, making himself a near impossible act to follow. Pieczec had 5 foals in Poland before being exported to the US at the 1988 Polish Prestige Sale.

Piruet was sired by the Swedish bred stallion PROBAT (Pohaniec - Borexia/Exelsjor) used in exchange for the stallion Algomej (on lease to Blommeröd Arabian Stud). The intention from Poland was to bring back the Kuhailan Afas Sireline, that had is heyday with the stallion COMET, born in 1953 at Nowy Dwor Stud. Comet was a grey stallion, more in his dams image, the grey Carmen than his sire, the bay Abu Afas, but he restablished the sireline with abundance in a number of very great sons, such as Essaul, Ego , Bilbao, Grojec, Carycyn, Mustafar, Gwar, Dar and many others, plus several important daughters of note. However, Comet passed on too early at age 12, and Poland sold many of his offspring, eventually leaving the country depleted of the possibility to carry on the sireline . Searching for a Comet son to use in Poland, the State Studs turned to Blommeröd Arabian Stud that had the aged POHANIEC, from Comets last foal crop at Michalow. Pohaniec however being aged had issues with lameness and could not go to Poland. So the Pohaniec-son Probat, a young bay stallion very much in the image of his great grandsire Abu Afas, was suggested. A virtually unproven young sire, Probat also brought back the blood of the important stallion Exelsjor (Aquinor - Eleonora/Witraz), having been exported to Sweden from Poland before beeing used in the breeding there.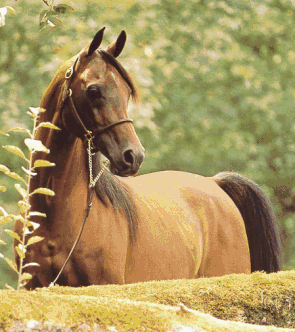 In Poland, Probat was a tremendous success, propelling the quality of arabian horses to a whole new level. Several of his sons was used at the State Studs; Enrilo, Pamir Fawor, Boryslaw, Garnizon, Wermut, Gil, Gwizd, Alegro and more. His sons and daughters won numerous National & International Champion titles and several were succefull at the racetrack. A few examples are: Pamir winning the Polish Derby and being named 1993 Polish National Champion. Pamir sired the Polish National Champion Stallion & Racehorse of the year Batyskaf. The Probat son Fawor being World Junior Champion Stallion 1983 & Polish National Champion in 1990. He was also an avid racehorse, with wins including the Amurath Stakes. Probats daughters equalled the quality of his sons: Polish National Champions Egzotyka, Empressa, Gaskonia, Pikieta, All Nations Cup Champion Aldara, Dalida, dam of great racehorse Druid: Swedish National Champions Pruszja, Regina, Prospecta, Prusznega, Nauticia, Champion Stallion Pionier ... the list goes on and on. After being used at his homestud Blommeröd, Probat was sold to the US. However great his impact in Poland and Sweden, history repeated itself when too many of his sons were sold, and in modern time, as unlikely as it would seem, the Kuhailan Afas sireline is yet again in dire straits. In later years the polish state studs have leased the then aged sires Pilot and Piruet in an effort to save this very precious and important sireline. Unfortunately, so far it has been rather unsuccesful.

Enter Wares...
In 1993 the mare Wernera, bred by Michalow State Stud, was sold in the auction to Scuderia Groane, Italy. A daughter of the Tersk -bred stallion TALLIN, a son of the incomparable sire Nabeg, himself by the polish bred Arax, Nabeg is the sire of iconic horses such as the great Menes, Nariadni, Neman, Pesniar, Peleng , besides Tallin. Tallin was leased to Poland for the purpose of strengthening the Bairactar sireline. He was a horse of kuhailan type and strenght, siring good mares and sons such as Polish National Champion & Polish Racehorse of the year, Wojslaw: Sire of Polands most succesful racehorse, Druid sold to Turkey for USD 500 000, and the stallion Emanor, Polish & US National Champion Stallion. Tallin was eventually sold to Brazil.

Wernera had two full siblings; the bays Warsowia and Wagram. Warsowia was the dam of Polish Chiefsire Wachlarz and exported to Brazil and the renowned Haras Meia Lua where she produced several great offspring. Later on she was sold to Haras Vanguarda. The stallion Wagram had a few foals in Poland before being exported to Argentina where his offspring is excelling in endurance.
The dam of Wernera is the great producing mare Wendeta, by Palas out of Weneda- a rare Gedymin-daughter out of Wenera, a Polish National Champion Mare and High Seller at the Polish Prestige auction in 1983 at USD 216 000. Weneda was considered one of the best producing mares at MIchalow in her days, with several great daughters, most of whom were exported. Weneda was sold to Sweden were she was crowned National Champion Mare by unanimous decision at age 17, in 1992. Her incredible trot and charisma made the public go wild and cheering at the top of their voices. At Michalow, her daughter Wendeta kept producing the same quality as her dam had. Besides the before mentioned Warsowia and Wagram, her daughter Werda produced at Michalow the chief sire Werbum, who´s daughter Mata Hari has been of great value, being the granddam of World Champion Morion among others.
Wendetas 1992 black daughter Wipera (by Fawor) a Polish National Reserve Champion and racewinner, produced daughters used for breeding at Michalow, before being exported to Great Britain where she has been succesful in the showring. Wernera herself has been a cornerstone at Scuderia Groane and has produced very well with a variety of bloodlines with many champions to her credit. Her daughters have in turn been great producers for Scuderia and in 2002 Wernera gave birth to the pure polish grey son, Wares. Now a mature stallion, he carries some resemblance to his great ancestor Comet, and more importantly, he is a one of a kind. Being a succesful showhorse in his own merit, he does not have many offspring to date. In 2017 he was imported to Sweden with hopes to restablish the sireline that was so succesfully carried on through the stallion Probat, his grandsire. Wares is, like his sire Piruet, a fairytale white horse of the desert. Large dark eyes, a dry chiseled face, an arched neck, strong and harmonious body and topline, and great movements. Quite simply, Wares is a unique individual. And he is now 16 years of age. If lost, another can not be found.

The time is now.

Text: Hannah Andersson